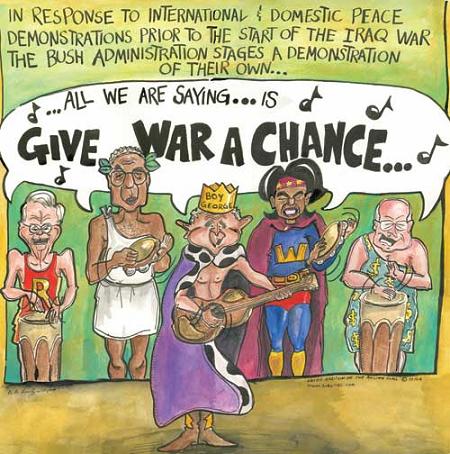 What follows was written by LT, one of Da Boys at
www.daboysof905.blogspot.com

Let's start by getting a few things out of the way:

The war in Iraq may have been a mistake...

The Bush administration may have made a multitude of mistakes in their execution of the Iraq War...

We may wish someone other than George W. Bush was the Commander in Chief of our Armed Forces...

But none of that is relevant because we are powerless to change the past and George W. Bush will be the Commander in Chief of our Armed Forces for the next two years.

The stakes are too high for us to waste time lamenting the things we can't control; so let's focus on what we can control. And while there is no question that failure in Iraq would have disastrous consequences and is something that none of us want to see, we do have to recognize that it is entirely possible that no matter what we do at this point, failure may already be unavoidable.

But since an immediate, full withdrawal of American troops is not a realistic option (if for no other reason than only 20-30% support such a plan), we might as well make at least one last attempt to try something different - one last attempt to give the Iraqi government a fighting chance to avoid civil war and establish a viable state. If Baghdad falls into chaos, then Iraq is lost. But if Baghdad can become a functioning city, then the Iraqi government may be able to stay solvent long enough to spread order and rule of law to other parts of Iraq. It is for this reason the troop surge calls for the majority of the additional forces to be placed in Baghdad.

What are the alternatives to a troop surge? A phased drawback of troops? That can (and should) occur months from now anyway. Staying the course and keeping the troop levels the same as they are now? The American people have made it crystal clear that they are demanding a change of some kind in our Iraq policy.

What are the costs of the surge? There is the chance that there will be more American casualties as a result... but this is no sure thing. It is also possible that the additional troops will allow us make Baghdad a safer place (and thus decrease casualties in the long run). And perhaps we can help make sure the surge is done in a way that makes clear this will be THE last attempt to restore order to Baghdad, and that after a fixed period of time, we will begin a troop drawback regardless of the outcome. If we fail, we fail. As horrible as that would be... failure may already be unavoidable.

We must reckon with the fact that the President does not need Congress's approval for a troop surge. Sitting around and lamenting the surge is akin to standing by train tracks and lamenting the train that is about to pass by. It would be more productve to try to tack our car onto the end of the train. Rather than try to prevent the unpreventable, we should try to focus the Presiden'ts plan and frame the debate. It is the difference between saying "no!" and saying "fine, but..."

We're going to have a troop surge?

Fine, but... let us make it crystal clear to the Iraqis that this is their last chance - that by , we WILL be going home. Let us explain to Iraqi families that if unless they want their children to grow up in a country torn asunder by civil war, NOW is the time to step up and do their part to build a stable Iraq. Let us support our Commander in Chief's military plan, but let us in return demand concrete promises to begin bringing our troops home by a specific date unless the situation on the ground significantly changes.

In other words, it's time to stop fighting the inevitable troop surge, and it's time to start fighting to make sure this troop surge is done right.