This morning I polled the Twitter
chevra
on their choice of shoe for Saturday services, and was surprised to discover that I have an upscale following: Everyone who answered claims to wear a variety of Allen Edmonds, the $300 and up shoe maker. (Though, psss, you can get many AE styles for less if you know how and where to look)
I shouldn't have been surpised. Allen Edmonds makes a great shoe. They cost two arms and three legs, but the quality is outstanding. Almost all of their shoes qualify for
recrafting
, or relatively inexpensive refurbishing, after they've undergone a few year's worth of ordinary wear, which means you can get a practically new shoe every few years for about 80 bucks. And all of the men style blogs are on board. Dappered, Effortless Gent - they all have a favorite Allen Edmond's shoe. Moreover, the guest of honor wore a pair of Allen Edmonds to seven of the last nine presidential innuagurations. (Obama is the one who didn't. IMPEACH!)
So let's do a review: Which Allen Edmonds shoe is best for shul?
THE PARK AVENUE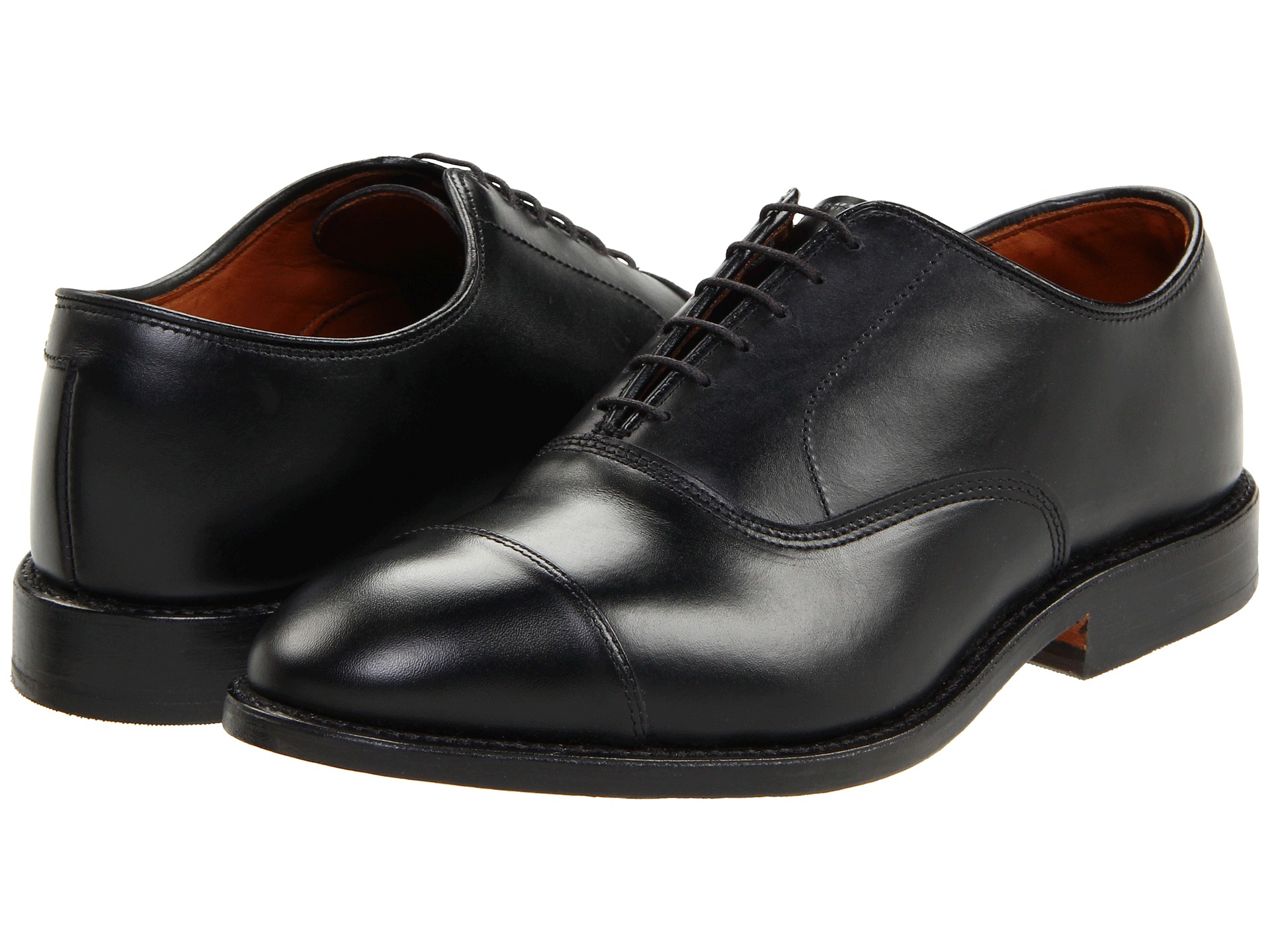 This is the shoe that was the Inauguration Day footwear choice for Presidents Reagan, H.W. Bush, Clinton and G.W. Bush, and also the Allen Edmonds shoe that two thirds of the people who answered my poll wear to shul. Its not hard to see why. They are sleek, classic, timeless and traditional. But they aren't my cup of tea. I don't like cap toes (probably because my father wore them seven days per week) and black is a little boring.
THE FiFTH AVENUE
The Fifth Avenue is another timeless, classic though slightly more modern than its Park Avenue sister. As with the Park Avenue, I recognize everything that makes this shoe outstanding, and wouldn't turn down a pair if they were offered to me for free by a greatful Allen Edmonds represenative, but they aren't what I wear to shul.
THE STRAND
The gang at Dappered drool over the Strand, going so far as to call them the "holy grail" of men's footwear. I've seen the Strand in person, and they are georgeous in a way this picture doesn't quite convey. But are they shul worthy? Yes, if you're under 30. If you're any older, it depends. If your congregation is traditional and your friends are formal and old fasioned you run the risk of suffering extreme mockery if you wear light colored brouges into the sanctuary. However, if your friends are fasion progressive, or if you're the sort who just doesn't care what the community thinks, then go for it. (Yes this is a cap toe, too, but the medallian on the toe saves it)
THE SAGAMORE
Style bloggers frown on both bicycle toes and black shoes that aren't cap toes being worn to funerals and weddings, but I say that Sagamore (or its felow bike toes the Dawson and Hillcrest) may be the perfect shul shoe for those of you who are 40 and over. They are boring, black, and just far enough out of fashion to please the typical middle-aged Orthodox Jewish man.
THE VERONA
Lots of guys in their late 30s and early 40s are still wearing bit loafers, though most of the style-world has moved on. (Being honest: I wear bit loafers, too) If you like bit loafers, the Veronas are very nice. (though
the Gucci horse-bit is still the standard bearer
.)
THE NEUMOK (IN BLUE)
Do not attempt to wear this shoe to shul unless you're (a) in your 20s (b) wearing a slim fit suit and (c) in better than average shape. But if you meet those critiria, and you don't daven with a bunch of judgemental prudes, I say go for it. I've seen people do it, and it looks great.
HONORABLE MENTION
The Hale and the Soho:
Both are really nice cap-toes, only ick: cap toes.
The McAllister
Really a stunning shoe, but I'm not partial to wingtips. Also see everything I said above about the Strand, its cap-toe cousin.
The Sixth Avenue
A really nice derby with a a cap toe and a medallian. The problem is that some will say a derby is too informal for shabbos. I don't happen to agree.
Search for more information about ### at4torah.com