---
Here's something interesting which I will post without comment. It tells the story of a major controversy that erupted at the 1964 Worlds Fair (the one in Queens) when a pro-Palestinian mural was installed at the exit of the Jordanian pavilion. Though it was only 1964 all the predictable things happened next.
For those too lazy to click, or uninterested in the full story, the mural featured a mother holding her child and contained the following words....
REMEMBER I AM POSTING THIS WITHOUT
COMMENT. REACT TO THE ARTICLE OR THE MURAL NOT TO ME. THANKS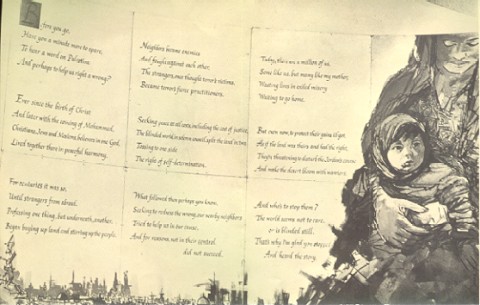 Have you a minute to spare,
To hear a word on Palestine
And perhaps to help us right a wrong?
Ever since the birth of Christ
And later with the coming of Mohammed,
Christians, Jews and Moslems, believers
.....in one God,
Lived there in peaceful harmony.
For centuries it was so,
Until strangers from abroad,
Professing one thing, but underneath,
.....another,
Began buying up land and stirring up the
.....people.
Neighbors became enemies
And fought against each other,
The strangers, once thought terror's victims,
Became terror's fierce practioners.
Seeking peace at all costs, including the
.....cost of justice,
The blinded world, in solemn council, split
.....the land in two,
Tossing to one side
The right of self-determination.
What followed then perhaps you know.
Seeking to redress the wrong, our nearby
.....neighbors
Tried to help us in our cause,
And for reasons, not in their control, did not
.....succeed.
Today, there are a million of us,
Some like us, but many like my mother,
Wasting their lives in exiled misery
Waiting to go home.
But even now, to protect their gains ill-got,
As if the land was theirs and had the right,
They're threatening to disturb the Jordan's
.....course
And make the desert bloom with warriors.
And who's to stop them?
The world seems not to care, or is blinded
.....still.
That's why I'm glad you stopped
And heard the story.
Search for more information about the Worlds Fair at4torah.com